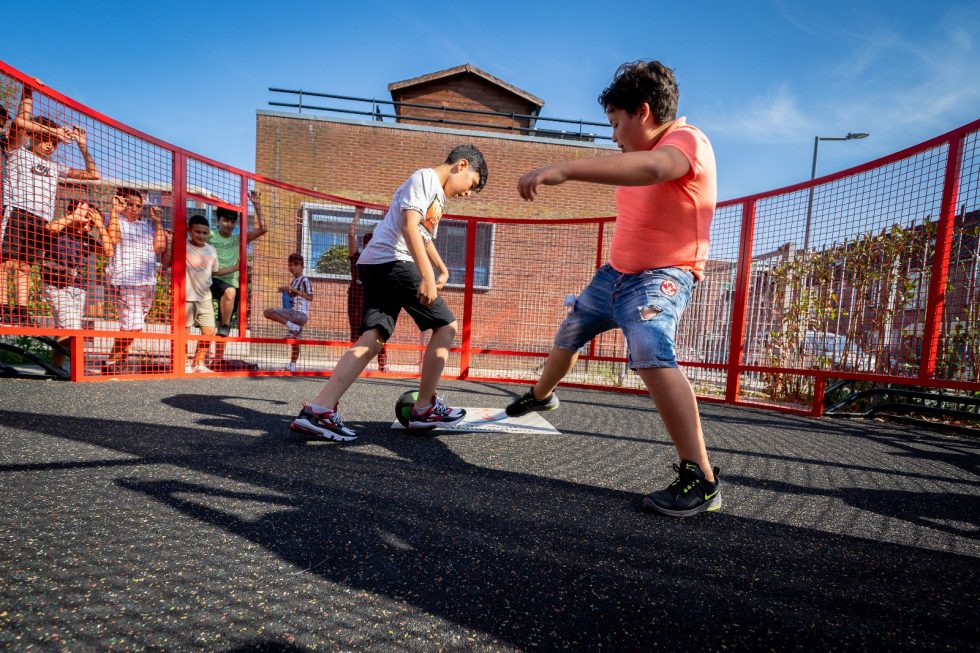 FOOTBALL TALENT IS BORN AND SHAPED ON THE SMALL FOOTBALL FIELDS
Cruijff? Street football player from Betondorp. Romario? Grew up at the squares of the favela. Maradona? Played football barefooted in one of the poorest districts of Buenos Aires. Messi? Also started off in the streets. And we can go on and on like this. Great football talents have all started at the foot of the ladder, just like everybody. No state-of-the-art modern sports complexes, expensive balls, or ultra-cool football shoes, but just a small square or field was all they needed. Why we are convinced that this is still valid and not just remnants of the past? We are pleased to tell you.
TECHNIQUE
The element that benefits the children the most is the technical aspect, especially now that most natural grass fields are replaced by artificial grass fields. De odd bounce, muddy grass, today's generation of young football players are no longer familiar with it.  While this would improve their technical skills and speed of response. What is left is that small square or field, where the talent of the player can really be kickstarted.
PHYSICAL
Whoever has played football in the streets knows that a different set of rules apply, it is not the same as a football club where the players in the game have the same age for example. So children encounter boys or girls in the game that might be three years older and who are most likely stronger and taller. They will then have to manage themselves in the game. Especially since falling on the street surface is of course more painful than on the grass. Moreover the game is played in a smaller area, which leads to more ball contacts and also more duels.
ALLROUND DEVELOPMENT
Sports and particularly team sports teach children many things about life, both consciously and unconsciously. They learn to team up by cooperating and they learn how to deal with losing and disappointment. Communication is at the heart of sport, so also on that aspect they develop themselves. And perhaps most importantly, they build friendships and establish social contacts.
We can go on like this for a long time, but the conclusion remains: street football is extremely important for the development of football talent!
DO YOU SHARE OUR OPINION?
If you share our opinion and are curious about the best ways to facilitate this for young people in your neighbourhood or at your club, please contact us. We can look at the possibilities together, and who knows, your panna cage might bring forward the new Cruijff!
Comments are closed.