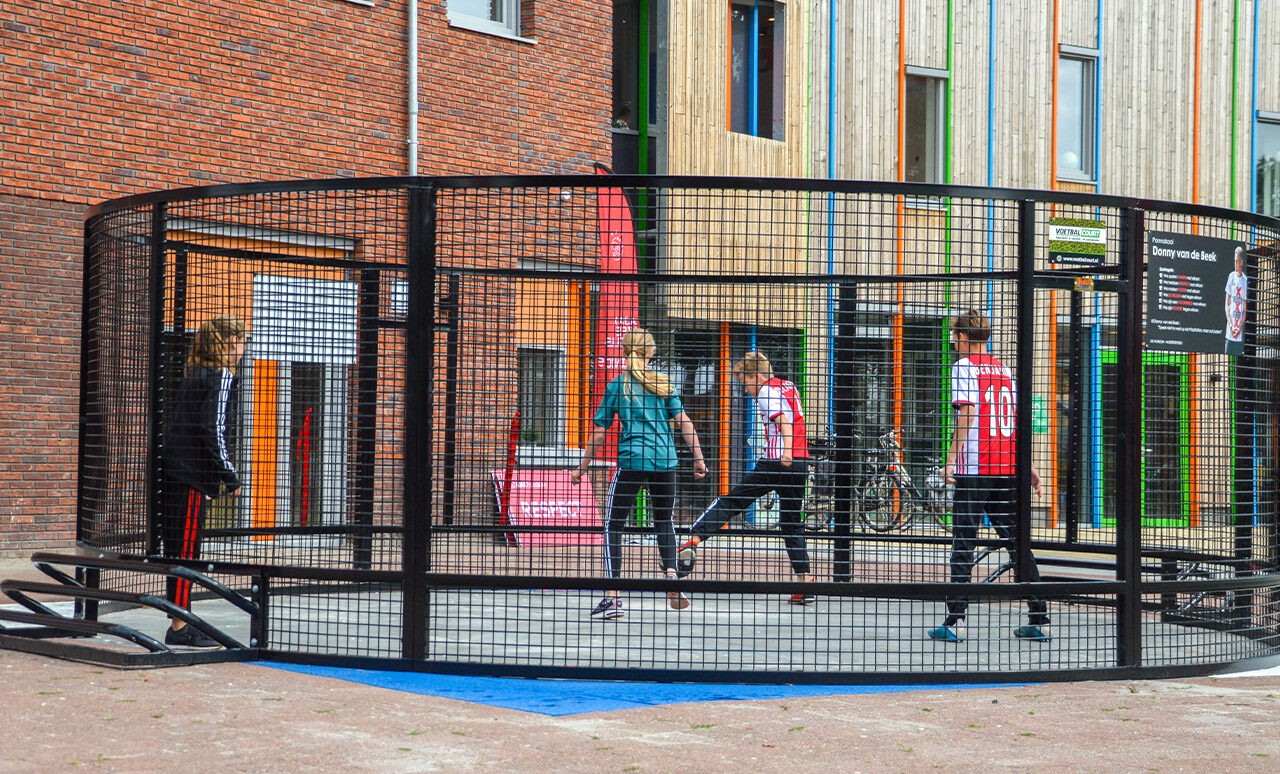 DUTCHPANNA PLAYGROUND EQUIPMENT
Movement is very important for young children. After a long day of school, nothing beats being outside to play together. In addition, it has been proven that children who play a lot outside have better performance with e.g. writing, calculating and listening. So playing makes kids smart. DutchPanna therefore has a variety of play equipment in the portfolio for the school square. We have a wide range of panna cages. Children are not only able to play football in them, they can also practice other sports. This way, your school triggers the children to move more on the school square!
MULTIFUNCTIONAL CAGES
The panna cages of DutchPanna are multifunctional to use. Of course, football can be played, because the cages have small goals at both ends. But it is also possible to place more goals or basketball nets in the panna cage. In addition to basketball, there are more fun games to be played in the panna cage. Noise nuisance is a thing of the past, since the DutchPanna cages are made of special sound-insulating material. The cages are also low maintenance, which means they will last for years. The playground equipment is ideal for the school square!
STIMULATE SPORTS
The Covid pandemic has made youth withdraw more and more. They are increasingly looking at bright-light screens and monitors, rather than going out together to play. DutchPanna's panna cages change this. The cages provide the ultimate outdoor fun. Additionally, playing games outside together not only prevents loneliness, but also overweight. So besides the social aspect of using the playground equipment together in the school square, it also has many health benefits. If you want to customize the cages, you can also print it with your school's logo in the special FastFeetGrinded G3 sports floor, which can be ordered optionally. The panna cage will be even more attractive for the children to play in!
ORDERING DUTCHPANNA PLAYGROUND EQUIPMENT
Is the DutchPanna panna cage the ideal playground equipment for your school yard? Please feel free to contact one of our specialist staff. Together we will review your wishes and discuss the possibilities. We also propose the ideal sizes and materials and the option for printing the school logo on the cage. Together we will find a solution!
Comments are closed.